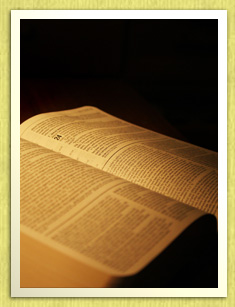 The Worship Leader's Time With God
Read the Scripture, not as an attorney may read a will, merely to know the sense, but as the heir reads it, as a description and proof of his interest. Be punctual in waiting upon God in secret. This is the life of everything, the only way and the sure way of maintaining and renewing your strength.
-- John Newton
Are you running on empty? Where do you get recharged spiritually? There is no fast DSL downloading of spiritual life recharging that I know of that is available to us. We have to do it the old dialup way. How's that? Grab a bible, get alone somewhere you can concentrate, and open up to a passage and let God talk to you. It's that easy, and it's that hard.
So why don't we do it? A number of reasons. Excuses abound. But this much is true. You can only give to the people you are leading in worship out of what you have. God is waiting to speak to you, to fill you up with the good things of himself, things not attainable at a three day worship seminar.
What can we hope to derive from a time with God?
I will give them an undivided heart and put a new spirit in them;
I will remove from them their heart of stone and give them a heart of flesh.
(Ezekiel 11:19)
Let the morning bring me word of your unfailing love.
(Psalm 143:8)

Does that whet your appetite? Here's how we come to God, and what we say to him when we do.
Open my eyes, that I may see wonderful things in your law.
(Psalm 119:18)
Then he opened their minds so they could understand the Scriptures.
(Luke 24:45)

No eye has seen, no ear has heard, no mind has conceived what God has prepared for those who love him,
but God has revealed it to us by his Spirit.
(1 Corinthians 2:9-10)
What can we expect when we meet with God, and he with us?
Blessed is the man who listens to me, watching daily at my doors, waiting at my doorway.
(Proverbs 8:34)
The economics of eternal matters….
"A calm hour with God is worth a whole lifetime with man."
-- Robert Murray M'Cheyne