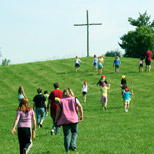 &nbsp
Songs for Children
At that time Jesus declared, "I thank you, Father, Lord of heaven and earth, that you have hidden these things from the wise and understanding and revealed them to little children; yes, Father, for such was your gracious will. (Matthew 11:25-26)

Everything I Need

| Walt Harrah
There's lots of desires we have that seem to be necessary. But only God can be an all-sufficient substitute, satisfying completely all the time, in every situation.
Miracles

| Walt Harrah
Nothing is impossible with God. Luke 1:37
God's Bigger

| Walt Harrah
No power anywhere, in heaven or on earth, can defeat Almighty God, the God who showed Himself to Abraham, Isaac and Jacob, and who sent His own Son to save mankind from their sin. Name any problem, our God is bigger.
God Has Never Failed Us Yet

| Walt Harrah
God is on our side, and watches over us. He never falls asleep, and at just the right time, he rescues and delivers.
So God!

| Walt Harrah
Our God does amazing things. He is a miracle- working, All-powerful God. And we are to be amazed as we ponder in worship.