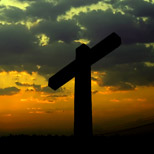 &nbsp
Good Friday
...there was darkness over the whole land until the ninth hour, while the sun's light failed. And the curtain of the temple was torn in two. Then Jesus, calling out with a loud voice, said, "Father, into your hands I commit my spirit!" And having said this he breathed his last. (Luke 23:44-46)

O Sacred Head Now Wounded
Paul Gerhardt
The passion of Christ on the cross
He Was Wounded
Thomas Chisholm
The death of Christ
It Causes Me To Tremble
Walt Harrah
The powerful redemptive work of Christ on our behalf, dying in our place, should move us to tears, it should humble us, and cause gratitude to swell up in us as a result.
Forgive Me Lord

| Walt Harrah
If we confess our sins, He is faithful and just and will forgive us our sins and purify us from all unrighteousness. 1 John 1:9
Solitary Throne
Walt Harrah
There is one king, and he reigns alone. He is supreme ruler, and His name is Jesus.
Related Blog Posts
God Down And Dirty
What can be said concerning the wonder of our salvation that hasn't been said? P. T. Forsythe is in that line of great thinkers who pondered God's love and then articulated it carefully. Read slowly and chew each morsel.
Never Lose The Wonder
Part of the effects of the Fall is that we get bored. And when the truly valuable loses its luster, we start exploring options. If the subject is grace and we get bored - then the loss is truly great. The appropriate response to grace is wonder.
The Most Amazing Love
God made Him who had no sin to be sin for us, so that in Him we might become the righteousness of God, 2 Corinthians 5:21