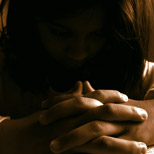 &nbsp
Consecration
I appeal to you therefore, brothers, by the mercies of God, to present your bodies as a living sacrifice, holy and acceptable to God, which is your spiritual worship. (Romans 12:1)

I'll Be That Man
Walt Harrah
God is looking for men and women who will represent him fearlessly, who are willing to take the kingdom of God into places where the kingdom of this world has wrecked havoc. This song helps the worshipper to say "here I am."
Be Thou My Vision
Eleanor Hull (Versified)
Whom have I in heaven but you? And earth has nothing I desire besides you. My flesh and my heart may fail, but God is the strength of my heart and my portion forever. (Psalm 73:25-26)
I Surrender All
Walt Harrah
Therefore, I urge you, brothers, in view of God's mercy, to offer your bodies as living sacrifices, holy and pleasing to God - this is your spiritual act of worship. Romans 12:1
Strength of My Heart

| Walt Harrah
When our hearts are set on God alone, all is well, and we are satisfied in him.
Make My Life A Miracle

| Walt Harrah
Not by might, not by power, but by my Spirit. Zechariah 4:6
Make My Heart Your Home

| Walt Harrah
We are the temple of the Holy Spirit. The Living God makes his abode with us, in our very hearts.
Wholly Yours
Walt Harrah
Holding nothing back from a God who deserves the very best we have to give.
Love My World
Walt Harrah
We are God's salt and light in the world he has placed us, and his kingdom work is accomplished through us.
The Finish Line

| Walt Harrah
The Christian life is a race. We are to run it, to finish, and to run in such a way as to win a prize. Such an attitude glorifies God.
Be Ye Holy

| Walt Harrah
God is holy, and desires holiness from His children. Not only does it reflect well on Him, but holiness is the foundation on which friendship and communion with God flourishes.
Worth Any Cost

| Walt Harrah
Discipleship is the word used to describe a follower of Jesus. And there is a cost. But the reward far outweighs any personal sacrifice.
Take Me As I Am

| Walt Harrah
Peter had just denied Christ, and days later was being called by Jesus to "feed His sheep." God doesn't look for perfect vessels, just consecrated ones.
Am I A Soldier Of The Cross
Isaac Watts
If you are a follower of Christ, you are a soldier. AWOL is not acceptable in the Kingdom of God. Let's fight the good fight, and win the crown of life.
The Upward Call
Walt Harrah
When we are in Christ, we become new creations. Our old way of seeing things passes away, and we depelop an entirely new mindset. Eternity becomes everything to us. And we live for a crown that will not fade, kept in heaven for us.
Go Into The World

| Walt Harrah
God loves the world so much, He gave His Son to die, so that all mankind might be reconciled to God. Now it is up to us to tell that message. How beautiful are the feet of those who bring good news. Romans 10:15
When All Is Said And Done
Walt Harrah
Consecration is defined as "the solemn dedication to a special purpose or service, usually religious." Expressing devotion as promise and desire pleases the heart of God. He loves intent.
Related Blog Posts
Better Than Counting Sheep
When my head hits the pillow, it's lights out. But perhaps before nodding off, some more intentionality might be in order. Certainly Jeremy Taylor thought so.
Now That's A Headstone!!
King Jehoram passed away at age 32 "to no one's regret." Ouch. The Puritan John Owen not only left thousands of pages of passionate theology behind, his life inspired one of the world's wordiest epitaphs on his grave marker. It is worth our attention.
The Problem With Puddles
It rains, and they appear. Want-a-be lakes, they show up and are gone. Puddles are a nuisance more than anything - good for nothing, really. How do we keep our lives from being the equivalent?
Related Worship Scripts
The Call Of God
God, who can do anything, "limits" his effectiveness by having us be his hands and feet and voice. The task he calls us to is beyond us, but he promises his presence, and that makes all the difference.
To Live Is Christ
These four words define what it means to be a sold out follower of the Lord Jesus. The adgenda of Jesus becomes our blueprint for living. And strangely, in "losing" our life, we find it. Instead of misery, we find delight and satisfaction.
Here I Am
Here's the senario of faith. God calls us, we respond. If you can't think of anything else to say to God, try these three words, "Here I am." Those words open the door to unimaginable joy, delight and satisfaction.