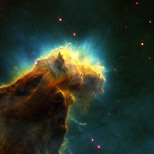 &nbsp
Knowledge
O
Lord
, you have searched me and known me! You know when I sit down and when I rise up; you discern my thoughts from afar. You search out my path and my lying down and are acquainted with all my ways. Even before a word is on my tongue, behold, O
Lord
, you know it altogether. (Psalm 139:1-4)

Father You Are Sovereign
Margaret Clarkson
When we say God is sovereign, we mean that nothing trumphs Him, his purposes can never be thwarted. His power is absolute, and nothing catches Him off guard. This is the ultimate statement of confidence, for who would not worship a God like this?
Related Blog Posts
The Falling Leaf And God's Sovereignty
So just how much does God know beforehand? And just what is determined and orchestrated? Is He ever surprised?
Fearfully and Wonderfully Made #2
Isaac Newton pondered,"Was the eye contrived without skill in optics, and the ear without knowledge of sounds?" The more we know about our bodies, the more our wonder expands. Or at least it should.
Father, Son, Spirit - In That Order
Why is knowledge of God the Father important? Because when we understand that there is a holy God, then the cross takes on its true meaning. Out of that will flow true gratitude to a God who found a way to reconcile Adam's lost race.