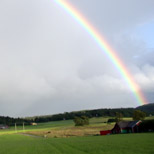 &nbsp
Assurance
Whoever has the Son has life; whoever does not have the Son of God does not have life. I write these things to you who believe in the name of the Son of God that you may know that you have eternal life. (1 John 5:12-13)

Convinced Of This

| Walt Harrah
The fact that God gave up His only Son to redeem us shows the lengths He will go to bring us safely home. We are held in His hands, and can rest in that truth.
Be Still My Soul
Katharina von Schlegel
Regardless what the circumstances would suggest, God is in control. And with that truth firmly fixed in our minds we can rest, trusting that he will work out everything according to his plan, which is always for the best.
Christ Arose
Robert Lowry
Jesus died on the cross, but by the power of God's Spirit, he was raised from the dead, and is now seated at the right hand of the Father, until the appointed time of his return.
A Mighty Fortress
Martin Luther
In times of trouble, we have a place to hide. And that place is in God himself. he is our refuge and strength, an ever-present help. (Psalm 46:1)
In The Lord Alone

| Walt Harrah
Everything we need is found in the Lord. He is the fountain of all true and lasting satisfaction.
The Hope We Have
Walt Harrah
Christian hope is the spiritual gasoline that fuels our faith, and keeps us running with perseverance. A Christian without hope is an oxymoron, like a car with no engine.
Jesus Answers Prayer
Fanny Crosby
The throne of grace is an untapped and endless resource of all the beliver will ever need. We are invited to come with confidence, and ask boldly in prayer.
God Is With Us
Thomas Gill
Our all-powerful God, who does whatever pleases him, is pleased to fight for us. He is Emmanuel, God with us.
You Know It's True

| Walt Harrah
Jesus came, full of grace and truth. Satan works overtime to get us to believe his lies. The Spirit works on our conscience, telling us right and wrong.
Forever With The Lord
Montgomery
Meanwhile we groan, longing to be clothed with our heavenly dwelling. 2 Corinthians 5:2
Most Holy Gracious God
Walt Harrah
God is holy. His perfect justice demands that he punish all disobedience, all rebellion. But on the cross, Jesus took the blows meant for us, and those who trust in Christ escape the punishment that we deserve. Hallelujah!
Related Blog Posts
When God Comes Close
Jacob had his dream, and knew that God had been there. Jonathan Edwards had that afternoon in the woods, as God poured out his love profoundly and personally. Paul had an experience with God that he could not put into words. And they were changed.
Old Things Pass Away....
Transformation. Being born again, suddenly everything is turned upside down. Or is it right-side-up? Either way, we no longer see things the same way. We belong to another. And it's ok. Or if it's not.....
What's In A Name?
Emmanuel means GOD WITH US. That's good, right? So just why are we so anxious? What gives? Fretting offends God, because it implies that he won't come through. How can trust shove doubt aside, and we become God trusters instead?
Related Worship Scripts
God's Sovereignty
God can do anything he wants, at any time. All things are possible, and his power is able to achieve what his will and wisdom designs.
More Than Conquerors
Life can get us down. But for those who are in Christ, we are never down for the count. Nothing in all of life can separate us from the love of God in Christ.
The Goodness Of God
Exaggeration is possible except when it comes to describing our God. His goodness extends to all, but especially to those who are called by His name, for nothing can happen outside His will, or that is not for our ultimate best.