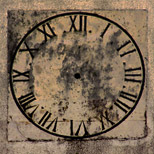 &nbsp
Eternity
Surely goodness and mercy shall follow me all the days of my life, and I shall dwell in the house of the LORD forever. (Psalm 23:6)

The Hope We Have
Walt Harrah
Christian hope is the spiritual gasoline that fuels our faith, and keeps us running with perseverance. A Christian without hope is an oxymoron, like a car with no engine.
Forever With The Lord
Montgomery
Meanwhile we groan, longing to be clothed with our heavenly dwelling. 2 Corinthians 5:2
Just Wait And See

| Walt Harrah
Everything we see around us will disappear, transforming into a recreation that far outshines the first. It will be glorious, and last forever.
Related Blog Posts
Describing the Indescribable
What we have in Christ will take all eternity to describe. But for one segment of one sermon, a great preacher made a mighty attempt.
2010 and Eternity
As Paul said, the hour has come for us to wake up from our slumber. Our salvation is nearer than when we first believed. Henry Vaughn the poet had some specific ways to put "feet" on that suggestion, living each day with eternity in mind.
Strange Bedfellows: Longing and Joy
God has placed eternity in the hearts of his creatures. (Ecc.3:11) Earth is merely a prelude for what is to follow. But earth gives us glimpses, scents, hints that heighten our longing for the eternal, and awaken joy, however fleeting.