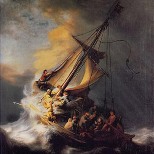 &nbsp
Perseverence
God is our refuge and strength, a very present help in trouble. Therefore we will not fear though the earth gives way, though the mountains be moved into the heart of the sea, though its waters roar and foam, though the mountains tremble at its swelling. (Psalm 46:1-3)

His Love Endures

| Walt Harrah
God has always been trustworthy, and history is full of His acts of power, and His display of deliverance. And each time He intervenes, praise is the appropriate response.
Convinced Of This

| Walt Harrah
The fact that God gave up His only Son to redeem us shows the lengths He will go to bring us safely home. We are held in His hands, and can rest in that truth.
Be Still My Soul
Katharina von Schlegel
Regardless what the circumstances would suggest, God is in control. And with that truth firmly fixed in our minds we can rest, trusting that he will work out everything according to his plan, which is always for the best.
A Mighty Fortress
Martin Luther
In times of trouble, we have a place to hide. And that place is in God himself. he is our refuge and strength, an ever-present help. (Psalm 46:1)
Strength of My Heart

| Walt Harrah
When our hearts are set on God alone, all is well, and we are satisfied in him.
Make My Life A Miracle

| Walt Harrah
Not by might, not by power, but by my Spirit. Zechariah 4:6
Prayer For The Future

| Walt Harrah
God's sovereignty. We don't know what the future holds, but we know who holds the future.
I Wait In Hope

| Walt Harrah
Waiting on God glorifies Him. But waiting without the "wringing of hands," waiting in hope, glorifies Him even more.
God Is With Us
Thomas Gill
Our all-powerful God, who does whatever pleases him, is pleased to fight for us. He is Emmanuel, God with us.
God Has Never Failed Us Yet

| Walt Harrah
God is on our side, and watches over us. He never falls asleep, and at just the right time, he rescues and delivers.
The Finish Line

| Walt Harrah
The Christian life is a race. We are to run it, to finish, and to run in such a way as to win a prize. Such an attitude glorifies God.
God Will Deliver Me

| Walt Harrah
You might say that God is in the delivery business. Call on me in the day of trouble; I WILL DELIVER YOU, and you will honor me. Psalm 50:15
A Miracle For You

| Walt Harrah
Our God, who has all power, never faces any obstacle that he can't fix. He turns desert places into springs. Miracles are his "bread and butter." So we wait on him expectantly.
No More Night

| Walt Harrah
"God will wipe away every tear from their eyes."-- Revelation 7:17
Think About His Love

| Walt Harrah
A wise person recalls the goodness of God, and how God intentionally loves on us.
Worth Any Cost

| Walt Harrah
Discipleship is the word used to describe a follower of Jesus. And there is a cost. But the reward far outweighs any personal sacrifice.
Forever With The Lord
Montgomery
Meanwhile we groan, longing to be clothed with our heavenly dwelling. 2 Corinthians 5:2
Hallowed Be Your Name
Walt Harrah
Our God is a prayer-hearing God. Prayer is the means by which we commune with God and he with us. And the essentials of prayer are found in the prayer that Jesus taught His disciples.
Am I A Soldier Of The Cross
Isaac Watts
If you are a follower of Christ, you are a soldier. AWOL is not acceptable in the Kingdom of God. Let's fight the good fight, and win the crown of life.
We Trust In The Lord

| Walt Harrah
The world around us tempts us with a myriad of choices to place our trust in. The only sure place for our trust is in the Lord Himself.
I Will Not Fear
Walt Harrah
With God on our side, we have an advantage that the world knows nothing of, and His presence means that we can trust instead of fretting. Fear is a warning light that we are not trusting.
The Upward Call
Walt Harrah
When we are in Christ, we become new creations. Our old way of seeing things passes away, and we depelop an entirely new mindset. Eternity becomes everything to us. And we live for a crown that will not fade, kept in heaven for us.
Lead Me To The Rock
Walt Harrah
Calling on God in time of trouble for salvation and deliverance
The Light Of The Lord

| Walt Harrah
There is a gate that is wide and broad, and very popular. The way of the Lord, however, is narrow. Few find it, but it leads to life.
Related Blog Posts
Suffering Saints
We get nervous thinking about it - suffering for the sake of Christ. How necessary is it, and what does it produce in us?
When Fear Is Good
NO FEAR, we are told. And the point is well taken. But fear can be healthy, at least when it comes to eternal matters.
The Twelve Signs Of Grace
Self-examination is not easy to do. The tendency is to let ourselves off easy. But examine we must, for eternity is at stake.
Related Worship Scripts
The House Of The Lord
In Psalm 27, David narrows his desire down to one thing, the pursuit of God. His energies will be focused on the obtaining that one thing. He has tasted of the Lord, and nothing else satisfies. How do we get there?
Wake Up
Physical sleep is wonderful, but spiritual sleep, that's another matter. Drowsiness is not a good thing when it comes to the Christian walk. What does being wide awake look like for believers, and how can we stir ourselves out of our slumber?
Looking To Jesus
Where do we look for inspiration? The world is quick to give us an ever changing and inspiring list. But only Jesus can deliver in matters of faith and perseverance and eternity. Jesus never disappoints.