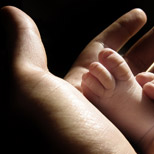 &nbsp
Compassion
As a father shows
compassion
to his children, so the
LORD
shows
compassion
to those who fear him. (Psalm 103:13)

Faithful Love

| Walt Harrah
God's name reflects his character. He doesn't love in a vacuum, or in theory. He finds people to show love to. And his mercy results in our salvation, as he continues to lavish grace and favor on us - forever!
Who Is A God Like You
Walt Harrah
God loves to show mercy, and the removing of sin is primarily how he displays that love.
There Is Forgiveness

| Walt Harrah
God is holy, and sin separates us from him. But through the cross, we have forgiveness thorough the blood of Jesus.
Abba Father, We Approach You
Horatio Bonar
Because of the cross of Christ, we have access to the very throne of God. We are welcome as sons of the King, with all rights and privileges.
Most Holy Gracious God
Walt Harrah
God is holy. His perfect justice demands that he punish all disobedience, all rebellion. But on the cross, Jesus took the blows meant for us, and those who trust in Christ escape the punishment that we deserve. Hallelujah!
Related Blog Posts
When God Comes Close
Jacob had his dream, and knew that God had been there. Jonathan Edwards had that afternoon in the woods, as God poured out his love profoundly and personally. Paul had an experience with God that he could not put into words. And they were changed.
Your Lap and God's Blessing
Everything we do on earth is carefully monitored by our heavenly Father. That can be scary, or wonderful. It all depends.
Never Lose The Wonder
Part of the effects of the Fall is that we get bored. And when the truly valuable loses its luster, we start exploring options. If the subject is grace and we get bored - then the loss is truly great. The appropriate response to grace is wonder.
Related Worship Scripts
Streams of Mercy
God's mercy is like Niagra Falls, and it continually washes over us. As gratitude is expressed, our hearts are enlarged and God is glorified.