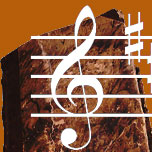 &nbsp
Hymns
Let the word of Christ dwell in you richly, teaching and admonishing one another in all wisdom, singing psalms and hymns and spiritual songs, with thankfulness in your hearts to God. (Colossians 3:16)

Be Thou My Vision
Eleanor Hull (Versified)
Whom have I in heaven but you? And earth has nothing I desire besides you. My flesh and my heart may fail, but God is the strength of my heart and my portion forever. (Psalm 73:25-26)
Be Still My Soul
Katharina von Schlegel
Regardless what the circumstances would suggest, God is in control. And with that truth firmly fixed in our minds we can rest, trusting that he will work out everything according to his plan, which is always for the best.
Brethren We Have Met To Worship
Walt Harrah (Adapted)
Gathered believers in worship have every right to expect great things from God. This song helps to express such desires, and place them before a gracious, prayer-hearing God.
Christ The Lord Is Risen Today
Charles Wesley
Death has been swallowed up in victory. Where, O death, is your victory? Where, O death, is your sting? (1 Corinthians 15:54-55)
Crown Him With Many Crowns
Matthew Bridges
Jesus has completed the work his Father gave him to do. He is triumphant. He is King. He is Lord of all. And he will be throughout all eternity.
A Mighty Fortress
Martin Luther
In times of trouble, we have a place to hide. And that place is in God himself. he is our refuge and strength, an ever-present help. (Psalm 46:1)
I Surrender All
Walt Harrah
Therefore, I urge you, brothers, in view of God's mercy, to offer your bodies as living sacrifices, holy and pleasing to God - this is your spiritual act of worship. Romans 12:1
All Creatures Of Our God And King
St. Francis of Assissi
All creation has an obligation to praise the One who created it.
God Is With Us
Thomas Gill
Our all-powerful God, who does whatever pleases him, is pleased to fight for us. He is Emmanuel, God with us.
Shout For Joy To The Lord
Neander
Why do we worship the Lord? This song not only calls us to do that, it gives us a number of reasons to awaken our hearts to praise. The new refrain from Psalm 100 asks all the earth to join in the song.
Fairest Lord Jesus
Anonymous
The Person Of Jesus
And Can It Be
Charles Wesley
The Wonder of Salvation
Great God Of Love
Wesley/Harrah
The magnitude of our salvation, that we were dead and God made us alive, should awaken the loudest praise we can muster. What love but God's could run so deep, and extend so low, and raise to such height?
Nothing But The Blood
Lowry/Doane
Without the shedding of blood there is no forgiveness of sin. Hebrews 9:22
Holy! Holy! Holy!
Reginald Heber
"And I heard a voice from heaven, as the voice of many waters, and as the voice of a great thunder;and I heard the voice of harpers harping with their harps." -- Revelation 14:2
Abba Father, We Approach You
Horatio Bonar
Because of the cross of Christ, we have access to the very throne of God. We are welcome as sons of the King, with all rights and privileges.
Father You Are Sovereign
Margaret Clarkson
When we say God is sovereign, we mean that nothing trumphs Him, his purposes can never be thwarted. His power is absolute, and nothing catches Him off guard. This is the ultimate statement of confidence, for who would not worship a God like this?
Arise My Soul
Charles Wesley
When the Bible says "therefore there is now no condemnation for those who are in Christ Jesus," it means just exactly that. We can live guilt free lives because of what Christ has accomplished.
To God Be The Glory
Fanny Crosby
The Good News of the Gospel can't be kept hidden. It must be told, and retold in a thousand ways, with stories of God's faithful love as shown in history, and in our very lives.
Am I A Soldier Of The Cross
Isaac Watts
If you are a follower of Christ, you are a soldier. AWOL is not acceptable in the Kingdom of God. Let's fight the good fight, and win the crown of life.
Emmanuel's Praise
John Blakewell
:
Christ Arose
Robert Lowry
Jesus died on the cross, but by the power of God's Spirit, he was raised from the dead, and is now seated at the right hand of the Father, until the appointed time of his return.
Come Thou Fount
Robert Robinson
Expressing a God-focused mindset, and the gratitude that flows out of a fervent soul in worship.
Forever With The Lord
Montgomery
Meanwhile we groan, longing to be clothed with our heavenly dwelling. 2 Corinthians 5:2
All Creatures (Christmas version)

| St. Francis of Assissi
God is the Maker of everything, and his creation brings him glory by praising Him.
Christ Is Made The Sure Foundation
J. Hughes
Lifting up Jesus glorifies God. And acknowledging that Christ is the foundation upon which the Church rests affirms a huge and necessary truth.
Related Blog Posts
When God Comes Close
Jacob had his dream, and knew that God had been there. Jonathan Edwards had that afternoon in the woods, as God poured out his love profoundly and personally. Paul had an experience with God that he could not put into words. And they were changed.
A Reality Check For Church Musicians
Worship music now holds a high and lofty position in the view of many (most?) church-goers and strategists. Without discounting its role, C.S. Lewis, as only he could do, warns of the need to keep our musical offerings in perspective.
Deep Waters
Our God is in the rescue business. He delivers, he saves. And not only that. The very trials we face are the testings we need to become strong, eventually producing eternal results