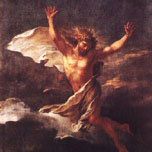 &nbsp
Easter
And he said to them, "Do not be alarmed. You seek Jesus of Nazareth, who was crucified. He has risen; he is not here. See the place where they laid him. (Mark 16:6)

Christ Arose
Robert Lowry
Jesus died on the cross, but by the power of God's Spirit, he was raised from the dead, and is now seated at the right hand of the Father, until the appointed time of his return.
Christ The Lord Is Risen Today
Charles Wesley
Death has been swallowed up in victory. Where, O death, is your victory? Where, O death, is your sting? (1 Corinthians 15:54-55)
Crown Him With Many Crowns
Matthew Bridges
Jesus has completed the work his Father gave him to do. He is triumphant. He is King. He is Lord of all. And he will be throughout all eternity.
Solitary Throne
Walt Harrah
There is one king, and he reigns alone. He is supreme ruler, and His name is Jesus.