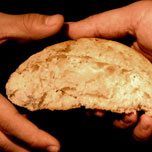 &nbsp
Communion
And he took bread, and when he had given thanks, he broke it and gave it to them, saying, "This is my body, which is given for you. Do this in remembrance of me." And likewise the cup after they had eaten, saying, "This cup that is poured out for you is the new covenant in my blood. (Luke 22:19-20)

Forgive Me Lord

| Walt Harrah
If we confess our sins, He is faithful and just and will forgive us our sins and purify us from all unrighteousness. 1 John 1:9
Once For All

| Walt Harrah
The sacrificial work of Christ was a one-time-event on the cross. The wrath of God has been satisfied, and there is now no condemnation for those who are in Christ Jesus.
We Remember You

| Walt Harrah
The sacrifice of our Lord, highlighted and emphasized in the celebration of communion, elicits praise to our praiseworthy God.
Nothing But The Blood
Lowry/Doane
Without the shedding of blood there is no forgiveness of sin. Hebrews 9:22
Abba Father, We Approach You
Horatio Bonar
Because of the cross of Christ, we have access to the very throne of God. We are welcome as sons of the King, with all rights and privileges.
Arise My Soul
Charles Wesley
When the Bible says "therefore there is now no condemnation for those who are in Christ Jesus," it means just exactly that. We can live guilt free lives because of what Christ has accomplished.
Most Holy Gracious God
Walt Harrah
God is holy. His perfect justice demands that he punish all disobedience, all rebellion. But on the cross, Jesus took the blows meant for us, and those who trust in Christ escape the punishment that we deserve. Hallelujah!
Related Blog Posts
After The Bread And Cup
Communion is a privilege for the believer that has no parallel. It is impossible to plumb the depths of its significance, and expressing appropriate gratitude is daunting. Lancelot Andrewes helps us, with his gift for words.
Never Lose The Wonder
Part of the effects of the Fall is that we get bored. And when the truly valuable loses its luster, we start exploring options. If the subject is grace and we get bored - then the loss is truly great. The appropriate response to grace is wonder.
CONFESSION - Book of Common Prayer
If God is holy (and He is) then transgression is very much a constant reality, with confession the appropriate response. And our heavenly Father loves to show mercy.
Related Worship Scripts
God Of Mercy
God says of Himself that He is "slow to anger." He is full of compassion, and delights to show mercy. And He is the same yesterday, today and forever. How wonderful to know that He has not run out of patience, and shows us mercy as well.
Streams of Mercy
God's mercy is like Niagra Falls, and it continually washes over us. As gratitude is expressed, our hearts are enlarged and God is glorified.