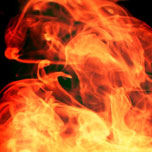 &nbsp
Hell
Then he will say to those on his left, 'Depart from me, you cursed, into the eternal fire prepared for the devil and his angels. For I was hungry and you gave me no food, I was thirsty and you gave me no drink, I was a stranger and you did not welcome me...' (Matthew 25:41-43)

One And Only Savior

| Walt Harrah
Salvation is found in no one else, for there is no other name under heaven given to men by which we must be saved. Acts 4:12
Related Blog Posts
Holding On To Air
Arthur Sulzberger Jr. can't be faulted for hypocrisy. He is a true believer. But in what, exactly?
And They All Lived Happily Ever After
The music swells, the couple embraces, THE END appear on the screen, and we go home smiling. Real life is murkier, and the Bible is no different, presenting real characters railing at God, or loving Him, or both. As to the final outcome - God only knows.