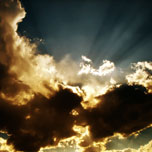 &nbsp
Heaven
No longer will there be anything accursed, but the throne of God and of the Lamb will be in it, and his servants will worship him. They will see his face, and his name will be on their foreheads. And night will be no more. They will need no light of lamp or sun, for the Lord God will be their light, and they will reign forever and ever. (Revelation 21:3-5)

Now and Forever

| Walt Harrah
God's Care
Righteous One

| Walt Harrah
Jesus is Lord over everything. Someday all heaven and earth will acknowledge that fact.
Crown Him With Many Crowns
Matthew Bridges
Jesus has completed the work his Father gave him to do. He is triumphant. He is King. He is Lord of all. And he will be throughout all eternity.
One And Only Savior

| Walt Harrah
Salvation is found in no one else, for there is no other name under heaven given to men by which we must be saved. Acts 4:12
No More Night

| Walt Harrah
"God will wipe away every tear from their eyes."-- Revelation 7:17
Forever With The Lord
Montgomery
Meanwhile we groan, longing to be clothed with our heavenly dwelling. 2 Corinthians 5:2
Holy! Holy! Holy!
Reginald Heber
"And I heard a voice from heaven, as the voice of many waters, and as the voice of a great thunder;and I heard the voice of harpers harping with their harps." -- Revelation 14:2
Just Wait And See

| Walt Harrah
Everything we see around us will disappear, transforming into a recreation that far outshines the first. It will be glorious, and last forever.
Related Blog Posts
Holding On To Air
Arthur Sulzberger Jr. can't be faulted for hypocrisy. He is a true believer. But in what, exactly?
It Only Gets Better
In 1 Corinthians 13, Paul talks about seeing through a glass dimly, but that it will not always be so. The glory that is certain to come, of which the Christian hopes and longs for, will be unimaginably wonderful.
If Caterpillars Only Knew
This "tent" we live in is temporary. Our bodies in this life, as incredible as they are, are still 1.0. Death promises a transformation of an unimaginable kind. So go ahead, wonder a little. And let hope arise.