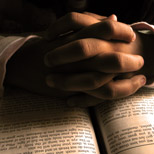 &nbsp
Sanctification
And we all, with unveiled face, beholding the glory of the Lord, are being transformed into the same image from one degree of glory to another. For this comes from the Lord who is the Spirit. (2 Corinthians 3:18)

Come Spirit Come

| Walt Harrah
Asking for the presence and power that only the Holy Spirit provides.
Shake This Place

| Walt Harrah
The Holy Spirit and our need for Him to supernaturally take over. This song is a prayer for change, and a revival of what has been lost and needs to be restored in the believer's heart.
Convinced Of This

| Walt Harrah
The fact that God gave up His only Son to redeem us shows the lengths He will go to bring us safely home. We are held in His hands, and can rest in that truth.
Make My Heart Your Home

| Walt Harrah
We are the temple of the Holy Spirit. The Living God makes his abode with us, in our very hearts.
Wholly Yours
Walt Harrah
Holding nothing back from a God who deserves the very best we have to give.
Who Is A God Like You
Walt Harrah
God loves to show mercy, and the removing of sin is primarily how he displays that love.
God Is With Us
Thomas Gill
Our all-powerful God, who does whatever pleases him, is pleased to fight for us. He is Emmanuel, God with us.
Be Ye Holy

| Walt Harrah
God is holy, and desires holiness from His children. Not only does it reflect well on Him, but holiness is the foundation on which friendship and communion with God flourishes.
We Remember You

| Walt Harrah
The sacrifice of our Lord, highlighted and emphasized in the celebration of communion, elicits praise to our praiseworthy God.
The Upward Call
Walt Harrah
When we are in Christ, we become new creations. Our old way of seeing things passes away, and we depelop an entirely new mindset. Eternity becomes everything to us. And we live for a crown that will not fade, kept in heaven for us.
Unchanging God
Isaac Watts
Everything around us may change, but the God we worship is immutable. It is not possible for him to improve, age, or morph. Jesus Christ is the same yesterday, today and forever. God will always be faithful. He cannot be anything else.
A River To My Soul
Walt Harrah
Water is lifegiving. And by the Spirit, we are promised a well that not only springs up inside us, but then overflows out of us, enriching everyone we meet.
The Light Of The Lord

| Walt Harrah
There is a gate that is wide and broad, and very popular. The way of the Lord, however, is narrow. Few find it, but it leads to life.
Set Things Right

| Walt Harrah
Humility open the door to the renewing presence of Almighty God. And the heart of God is looking for those who are lowly in spirit.
Related Blog Posts
The Twelve Signs Of Grace
Self-examination is not easy to do. The tendency is to let ourselves off easy. But examine we must, for eternity is at stake.
"Ouch!!"
Spiritual pride is hard to detect. Jonathan Edwards gives some tips. The process can be painful, but necessary.
17th Century Authenticity
To say what you don't feel in your emotions is considered to be inauthentic, or phony. Samuel rutherford would beg to differ.
Related Worship Scripts
Jesus And Other-Centeredness
The challenge for the Christian is to live for others. The world teaches us the opposite. But as we look to Jesus, we find the pathway to true greatness marked out for us - a life of selflessness.
Here I Am
Here's the senario of faith. God calls us, we respond. If you can't think of anything else to say to God, try these three words, "Here I am." Those words open the door to unimaginable joy, delight and satisfaction.
The Good Fight
God fights for us. He is the field general, and deploys forces on our behalf to win battles for us. We in turn, fight with the help of the Spirit in us to defeat the enemy within, and in so doing obtain a crown of life.