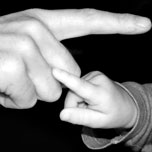 &nbsp
Adoption
But when the fullness of time had come, God sent forth his Son, born of woman, born under the law, to redeem those who were under the law, so that we might receive adoption as sons. (Galatians 4:4-5)

Convinced Of This

| Walt Harrah
The fact that God gave up His only Son to redeem us shows the lengths He will go to bring us safely home. We are held in His hands, and can rest in that truth.
Everything's New
Walt Harrah
Baptism, the visible sign of our being buried with Christ, only to rise from the dead to newness of life.
Abba Father, We Approach You
Horatio Bonar
Because of the cross of Christ, we have access to the very throne of God. We are welcome as sons of the King, with all rights and privileges.
Related Worship Scripts
God's Sovereignty
God can do anything he wants, at any time. All things are possible, and his power is able to achieve what his will and wisdom designs.