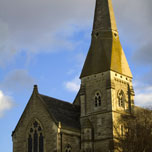 &nbsp
Church
So that through the church the manifold wisdom of God might now be made known to the rulers and authorities in the heavenly places. (Ephesians 3:10)

A Life of Love

| Walt Harrah
Be imitators of God, therefore, as dearly loved children and live a life of love, just as Christ loved us and gave himself up for us as a fragrant offering and sacrifice to God. (Ephesians 5:1)
Shake This Place

| Walt Harrah
The Holy Spirit and our need for Him to supernaturally take over. This song is a prayer for change, and a revival of what has been lost and needs to be restored in the believer's heart.
Everything's New
Walt Harrah
Baptism, the visible sign of our being buried with Christ, only to rise from the dead to newness of life.
Lord Come Down
Walt Harrah
Asking for the manifest presence of the Spirit among God's people.
Be Ye Holy

| Walt Harrah
God is holy, and desires holiness from His children. Not only does it reflect well on Him, but holiness is the foundation on which friendship and communion with God flourishes.
Heal Our Land
Walt Harrah
National prayer, on behalf of a culture of godlessness, also including the Church. The hope is that we will repent and turn from our wicked ways, and that healing will take place.
Christ Is Made The Sure Foundation
J. Hughes
Lifting up Jesus glorifies God. And acknowledging that Christ is the foundation upon which the Church rests affirms a huge and necessary truth.
Related Blog Posts
George Herbert on Prayer Meetings
Prayer Meetings are a thing of the past. Or so it seems. What has been lost? Maybe more than we realize.
Running To Win The Prize
The race of faith is a marathon. Some compete, some excell, some just plan on finishing, and others drop out. It is commendable to set the bar high, to finish well.
"YES SIR!! RIGHT AWAY SIR!!"
There are no "reserve soldiers" in the Kingdom of God. We are all on the front lines, battle ready, armed to the teeth with the armor of God.
Related Worship Scripts
The Unshakable Kingdom
Hitler hoped for a kingdom that would last 1000 years. He barely got 10! The kingdom of God will just be getting started at 1000 years. And nothing can undermine its trajectory, because no one can thwart God's plan.