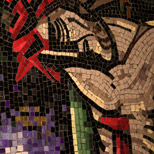 &nbsp
Suffering
For the Lamb in the midst of the throne will be their shepherd, and he will guide them to springs of living water, and God will wipe away every tear from their eyes. (Revelation 7:17)

Now and Forever

| Walt Harrah
God's Care
A Miracle For You

| Walt Harrah
Our God, who has all power, never faces any obstacle that he can't fix. He turns desert places into springs. Miracles are his "bread and butter." So we wait on him expectantly.
No More Night

| Walt Harrah
"God will wipe away every tear from their eyes."-- Revelation 7:17
Think About His Love

| Walt Harrah
A wise person recalls the goodness of God, and how God intentionally loves on us.
Am I A Soldier Of The Cross
Isaac Watts
If you are a follower of Christ, you are a soldier. AWOL is not acceptable in the Kingdom of God. Let's fight the good fight, and win the crown of life.
Teach Me To Weep

| Walt Harrah
Commpassion is a trait of God, and part of His name. We, however, do not come by it naturally. We look out for ourselves, and need the Spirit of God to awaken true compassion from within.
True Religion

| Walt Harrah
The formal worship of God, without lives that live out what we believe to be true, is a stench in God's nostrils. True religion is faith in action.
Related Blog Posts
Suffering Saints
We get nervous thinking about it - suffering for the sake of Christ. How necessary is it, and what does it produce in us?
When God Comes Close
Jacob had his dream, and knew that God had been there. Jonathan Edwards had that afternoon in the woods, as God poured out his love profoundly and personally. Paul had an experience with God that he could not put into words. And they were changed.
Of Whom This World Was Not Worthy
In Hebrews 11, the reader is overwhelmed with a heritage of the faithful. They are many and varied. And history testifies that this glorious train of believers is ongoing, and magnificent. It will take all of history to tell the full story.
Related Worship Scripts
Hope That Does Not Disappoint
Hope based in having the perfect life in this world will disappoint. It cannot live up to our expectations. But hope based on the promises of God, and our eternal existence with him, will never let us down, for God is true to his word.