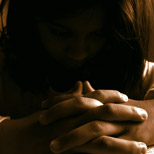 &nbsp
Worry
Look at the birds of the air: they neither sow nor reap nor gather into barns, and yet your heavenly Father feeds them. Are you not of more value than they? (Matthew 6:26)

Now and Forever

| Walt Harrah
God's Care
Say to This Mountain

| Walt Harrah
Prayer changes things.
His Power Will Prevail

| Walt Harrah
Trusting in God's power. God has promised to do the fighting. We do the trusting. Our hope is in His power, and in His faithfulness to act in protecting ways on our behalf, always looking out for our best interests.
Have Faith

| Walt Harrah
Persevering and hoping in God when the circumstances by themselves seem bleak and insurmountable.
Be Still My Soul
Katharina von Schlegel
Regardless what the circumstances would suggest, God is in control. And with that truth firmly fixed in our minds we can rest, trusting that he will work out everything according to his plan, which is always for the best.
A Mighty Fortress
Martin Luther
In times of trouble, we have a place to hide. And that place is in God himself. he is our refuge and strength, an ever-present help. (Psalm 46:1)
In The Lord Alone

| Walt Harrah
Everything we need is found in the Lord. He is the fountain of all true and lasting satisfaction.
Prayer For The Future

| Walt Harrah
God's sovereignty. We don't know what the future holds, but we know who holds the future.
I Wait In Hope

| Walt Harrah
Waiting on God glorifies Him. But waiting without the "wringing of hands," waiting in hope, glorifies Him even more.
Jesus Answers Prayer
Fanny Crosby
The throne of grace is an untapped and endless resource of all the beliver will ever need. We are invited to come with confidence, and ask boldly in prayer.
God Is With Us
Thomas Gill
Our all-powerful God, who does whatever pleases him, is pleased to fight for us. He is Emmanuel, God with us.
Miracles

| Walt Harrah
Nothing is impossible with God. Luke 1:37
God Will Deliver Me

| Walt Harrah
You might say that God is in the delivery business. Call on me in the day of trouble; I WILL DELIVER YOU, and you will honor me. Psalm 50:15
A Miracle For You

| Walt Harrah
Our God, who has all power, never faces any obstacle that he can't fix. He turns desert places into springs. Miracles are his "bread and butter." So we wait on him expectantly.
Arise My Soul
Charles Wesley
When the Bible says "therefore there is now no condemnation for those who are in Christ Jesus," it means just exactly that. We can live guilt free lives because of what Christ has accomplished.
I Will Not Fear
Walt Harrah
With God on our side, we have an advantage that the world knows nothing of, and His presence means that we can trust instead of fretting. Fear is a warning light that we are not trusting.
The Awesome God Who Can
Walt Harrah
Our minds are finite. And our imaginations have a governor on them. We see through a glass dimly. But God has no such limitations. The One who created the heavens and the earth is able to do far more than we could ask or even think.
Unchanging God
Isaac Watts
Everything around us may change, but the God we worship is immutable. It is not possible for him to improve, age, or morph. Jesus Christ is the same yesterday, today and forever. God will always be faithful. He cannot be anything else.
The Lord Is My Light

| Walt Harrah
When we trust in the Lord and look to Him to deliver, and His strength to protect, we have nothing to fear. It's all good.
Related Blog Posts
Your Lap and God's Blessing
Everything we do on earth is carefully monitored by our heavenly Father. That can be scary, or wonderful. It all depends.
The Best And Worst Of Times
In the opening sentences of A TALE OF TWO CITIES, the reader is immediately thrust into the turmoil. For Madame Elizabeth of France, that turmoil meant death by guillotine. She was faithful to the end, and went magnificently.
So Where's The Next John The Baptist?
At key times in the history of the Church, men and women have been raised up to fan into flame the the embers of Christian believers, and often with seismic results. God is watching carefully, and preparing. Keep your eyes open, and keep praying.
Related Worship Scripts
The God of Hope
Drumming up hope from earthly sources takes up much of our time, but it is, well, hopeless. Only God can provide hope that lasts, hope based on who He is and His intentions for us. It's all good, because God promises, and then delivers on His word.
Satisfied In God
There are so many places to look for satisfaction, and only one place in which that satisfaction is guaranteed. And that is in Jesus, our Rock and our Salvation.
Trust In God
The God of heaven is not intimidated by earthly kings and rulers. That's because He has the power to affect history any way He wishes. God is in control, and the believer can rest in a sovereign God who has a plan which no human can alter.