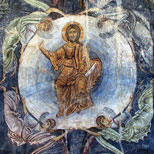 &nbsp
Exaltation of Jesus
Therefore God has highly exalted him and bestowed on him the name that is above every name, so that at the name of Jesus every knee should bow, in heaven and on earth and under the earth, and every tongue confess that Jesus Christ is Lord, to the glory of God the Father. (Philippians 2:9-11)

Righteous One

| Walt Harrah
Jesus is Lord over everything. Someday all heaven and earth will acknowledge that fact.
Be Thou My Vision
Eleanor Hull (Versified)
Whom have I in heaven but you? And earth has nothing I desire besides you. My flesh and my heart may fail, but God is the strength of my heart and my portion forever. (Psalm 73:25-26)
Christ Arose
Robert Lowry
Jesus died on the cross, but by the power of God's Spirit, he was raised from the dead, and is now seated at the right hand of the Father, until the appointed time of his return.
Christ The Lord Is Risen Today
Charles Wesley
Death has been swallowed up in victory. Where, O death, is your victory? Where, O death, is your sting? (1 Corinthians 15:54-55)
Crown Him With Many Crowns
Matthew Bridges
Jesus has completed the work his Father gave him to do. He is triumphant. He is King. He is Lord of all. And he will be throughout all eternity.
Solitary Throne
Walt Harrah
There is one king, and he reigns alone. He is supreme ruler, and His name is Jesus.
Fairest Lord Jesus
Anonymous
The Person Of Jesus
Endless Praise

| Walt Harrah
The sacrifice of Jesus to bring us back to God is so magnificent, that for all of eternity, it will be the theme of our praise. There will never be a time when it is inappropriate or out of date to thank our Savior Jesus Christ.
We Remember You

| Walt Harrah
The sacrifice of our Lord, highlighted and emphasized in the celebration of communion, elicits praise to our praiseworthy God.
Emmanuel's Praise
John Blakewell
:
Christ Is Made The Sure Foundation
J. Hughes
Lifting up Jesus glorifies God. And acknowledging that Christ is the foundation upon which the Church rests affirms a huge and necessary truth.
Related Blog Posts
Theological Steak
These words by P. T. Forsythe on the magnificence of Christ's work are to theology what Ruth's Chris is to a good steak.
The Solid Rock vs. All Other Ground
What does it mean to take Jesus lightly? For a hundred years or more, Jesus has been "damned" with very faint praise. The wisdom of this world gives ground begrudgingly to the Lord of the universe. But the battle is real.
Related Worship Scripts
The Tenacity of God's Love
God has bound all men over to disobedience, so that he may have mercy on them all. Romans 11:32 It will take all eternity to begin to unravel the truth behind this verse. To him be the glory forever! Amen. Romans 11:36
Solitary Throne
Jesus is Lord? The world allows him a place at the table of religion, but that is all. Someday, however, he will be the honored guest, when every knee will bow, and every tongue confess that Jesus Christ is Lord. Philippians 2:11