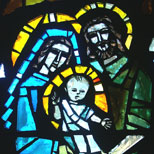 &nbsp
Birth of Jesus
And the angel said to them, "Fear not, for behold, I bring you good news of great joy that will be for all the people. For unto you is born this day in the city of David a Savior, who is Christ the Lord. (Luke 2:10-11)

All Creatures (Christmas version)

| St. Francis of Assissi
God is the Maker of everything, and his creation brings him glory by praising Him.
God Is Here

| Walt Harrah
When Jesus entered into our world, everything changed. Creation breathed easier, knowing its Maker was nearby. And Satan trembled, knowing his days were numbered.
Glory To God

| Walt Harrah
The birth of Jesus, God made flesh, born of Mary, is worth celebrating. It is a wondrous act of God, to reach out to his lost children and reconcile them. The angels sang gloriously, and so must we.
So Much Joy
Walt Harrah
The coming of God's Son in the flesh to the town of Bethlehem was the best possible news, and the whole world would benefit. The angels couldn't contain themselves as they told the news, so why should we?
Not Just Any Night
Walt Harrah
Jesus' birth was extraordinary. There was nothing "ho-hum" about it. "On that night, the one True Light, the Son of God was born."
Related Blog Posts
God Is Not Dead
Henry Wadsworth Longfellow wrote to a friend, "I do not believe anyone can be perfectly well, who has a brain and a heart." Where did he turn to find hope in his time of despair?
O Christmas Tree
They're beautiful, they bring back lots of memories, and gifts look wonderful at the base of their branches, but in a Christian context, do Christmas trees "belong?" Do they have any theological significance? Perhaps.....
God and Sinners Reconciled
The angels tried to convey what their excitement this little baby born in the town of Bethlehem. "To you is born a Savior who is Christ the Lord!" God was up to something - restoring a broken relationship.
Related Worship Scripts
Lessons and Carols
Here the traditional Anglican service of Christmas is "tweaked" slightly, with prayers following the scripture reading. The incarnation of our Lord is told with alternating readings, prayers, and carols.
Christmas Eve Service
Entitled GOD WITH US, this is a first-person retelling of Luke 1 and 2. Readers for the different characters of the story are needed, but staging and costuming can be kept to a bare minimum. Simplicity can work for you in this case.