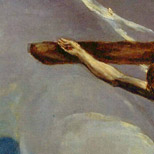 &nbsp
Love of Jesus
And walk in love, as Christ loved us and gave himself up for us, a fragrant offering and sacrifice to God. (Ephesians 5:2)

Faithful Love

| Walt Harrah
God's name reflects his character. He doesn't love in a vacuum, or in theory. He finds people to show love to. And his mercy results in our salvation, as he continues to lavish grace and favor on us - forever!
Convinced Of This

| Walt Harrah
The fact that God gave up His only Son to redeem us shows the lengths He will go to bring us safely home. We are held in His hands, and can rest in that truth.
O Sacred Head Now Wounded
Paul Gerhardt
The passion of Christ on the cross
He Was Wounded
Thomas Chisholm
The death of Christ
And Can It Be
Charles Wesley
The Wonder of Salvation
Great God Of Love
Wesley/Harrah
The magnitude of our salvation, that we were dead and God made us alive, should awaken the loudest praise we can muster. What love but God's could run so deep, and extend so low, and raise to such height?
Endless Praise

| Walt Harrah
The sacrifice of Jesus to bring us back to God is so magnificent, that for all of eternity, it will be the theme of our praise. There will never be a time when it is inappropriate or out of date to thank our Savior Jesus Christ.
Once For All

| Walt Harrah
The sacrificial work of Christ was a one-time-event on the cross. The wrath of God has been satisfied, and there is now no condemnation for those who are in Christ Jesus.
Nothing But The Blood
Lowry/Doane
Without the shedding of blood there is no forgiveness of sin. Hebrews 9:22
Abba Father, We Approach You
Horatio Bonar
Because of the cross of Christ, we have access to the very throne of God. We are welcome as sons of the King, with all rights and privileges.
I'm Reconciled
Walt Harrah
Because of the Fall, we were God's enemies. Now, through the death of Jesus, we are friends, we are welcomed into God's presence once again through the blood of Jesus. That is reconciliation of the highest sort, and worthy of celebrating.
Related Blog Posts
Choose You This Day
Jesus is one of many that a devout person may choose to put their hope and trust in. What makes Jesus so compelling? John Stott gives his reason - the sufferings of Christ.
The Most Amazing Love
God made Him who had no sin to be sin for us, so that in Him we might become the righteousness of God, 2 Corinthians 5:21
Related Worship Scripts
The Tenacity of God's Love
God has bound all men over to disobedience, so that he may have mercy on them all. Romans 11:32 It will take all eternity to begin to unravel the truth behind this verse. To him be the glory forever! Amen. Romans 11:36
What God Has Done, Is Doing and Will Do
This world has one thing on its mind - the present. Grab all the gusto you can. The worship of God is about eternity, the past, the present, and the future.