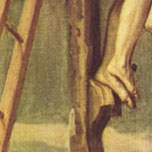 &nbsp
Grace of
But God, being rich in mercy, because of the great love with which he loved us, 5 even when we were dead in our trespasses, made us alive together with Christ—by grace you have been saved. (Ephesians 2:4-5)

Living Water

| Walt Harrah
Jesus offers a water for spiritually thirsty people, and once they drink of it, they never thirst again, for it becomes an everlasting spring that flows out of them.
In The Lord Alone

| Walt Harrah
Everything we need is found in the Lord. He is the fountain of all true and lasting satisfaction.
Jesus Answers Prayer
Fanny Crosby
The throne of grace is an untapped and endless resource of all the beliver will ever need. We are invited to come with confidence, and ask boldly in prayer.
Think About His Love

| Walt Harrah
A wise person recalls the goodness of God, and how God intentionally loves on us.
I Look To The Shepherd
Walt Harrah
We are sheep, but we have a shepherd - Jesus, that Great Shepherd Of The Sheep. Dependency on Him makes total sense, for He is all-powerful, constantly attentive, and able to care for us in this life, and throughout eternity.
Related Blog Posts
Who Is A God Like You?
In Revelation 5, a multitude worships from every race and people and nation. Somewhere in that massive crowd are redeemed ones from the island of Aniwa, in the South Pacific, singing "Worthy is the lamb who was slain." So just how did they get there?
The Incredible Love Of God
Have you walked through the Sistine Chapel? Then have you tried to describe it? Lots of luck. Words don't do it justice. P. T. Forsythe had a gift for words, and a love for the cross of Christ. And we are blessed as a result.
Priming The Pump Of Gratitude
Who can proclaim he mighty acts of the Lord or fully declare his praise? Psalm 106:2 The answer? No one. But that doesn't mean we shouldn't try.
Related Worship Scripts
What God Has Done, Is Doing and Will Do
This world has one thing on its mind - the present. Grab all the gusto you can. The worship of God is about eternity, the past, the present, and the future.
Day of Trouble
Our God is powerful, and in the "business" of delivering. Hard times are the very time to cry out for His power to be displayed.