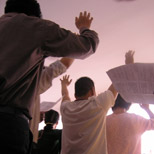 &nbsp
Adoration of
Great is the Lord, and greatly to be praised, and his greatness is unsearchable! (Psalm 145:3)

His Glory Fills The Earth

| Walt Harrah
Let them praise your great and awesome name - he is holy. Psalm 99:3
All Creatures Of Our God And King
St. Francis of Assissi
All creation has an obligation to praise the One who created it.
In The Lord Alone

| Walt Harrah
Everything we need is found in the Lord. He is the fountain of all true and lasting satisfaction.
Holy! Holy! Holy!
Reginald Heber
"And I heard a voice from heaven, as the voice of many waters, and as the voice of a great thunder;and I heard the voice of harpers harping with their harps." -- Revelation 14:2
To God Be The Glory
Fanny Crosby
The Good News of the Gospel can't be kept hidden. It must be told, and retold in a thousand ways, with stories of God's faithful love as shown in history, and in our very lives.
Related Blog Posts
George Herbert's Heart In Prayer
We've all prayed perfunctory prayers. "Thanks for the food, Lord. Amen." Taking the time to pray before a sermon has given way to opening illustrations that put the listeners "at ease." Not so George Herbert, the 17th century pastor/poet.
A Burst of Praise
Do you often feel tongue-tied when trying to express devotion to God? Do words fail you? Why not borrow from the best? Here, from the heart of Augustine, a transformed mind expresses the grandest truths in a masterful, gifted outpouring.
Thanksgiving - Don't Lose Your Mind!
I will sing with my spirit, I will also sing with my mind. 1 Corinthians 14:15
Related Worship Scripts
Praising God
History is filled with passionate words of praise from believers to our redeeming God. This script incorporates the value of that praise to enliven our worship today, here and now.
Adoring God
Who among the gods is like you, O Lord? Who is like you, majestic in holiness, awesome in glory, working wonders? Exodus 15:11 "No employment can be a greater honor to a man than to praise God." Jonathan Edwards