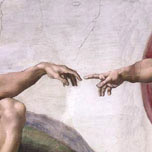 &nbsp
Leadership

Related Blog Posts
Whatever We Ask....
"Well done, good and faithful servant" will ring throughout the heavens someday as millions receive their reward. This much we know. Our own energy will have produced nothing worth rewarding. But in God's power? Now that's a different story.
Minding Our Own Theological Store
The Gospel message gets distorted. That's Church History 101. And we are to be vigilant, for sure. But spotting error and calling it out is dangerous business, and carries with it certain unexpected side effects. John Newton has come good advice.
So Where's The Next John The Baptist?
At key times in the history of the Church, men and women have been raised up to fan into flame the the embers of Christian believers, and often with seismic results. God is watching carefully, and preparing. Keep your eyes open, and keep praying.