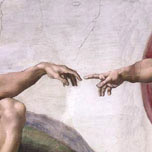 &nbsp
Trials and Testings

Lead Me To The Rock
Walt Harrah
Calling on God in time of trouble for salvation and deliverance
The Meaning Of The Vision Of The Rock
Walt Harrah
Wisdom From God
Related Blog Posts
Faith That Can Withstand Anything
Life's difficulties test the mettle of our faith, which can either unravel or turn into refined gold. For Mary Rowlandson, it was the latter.
Against The Grain
Anybody can swim with the current. It's the salmon swimming upstream that get our admiration.
When God Comes Close
Jacob had his dream, and knew that God had been there. Jonathan Edwards had that afternoon in the woods, as God poured out his love profoundly and personally. Paul had an experience with God that he could not put into words. And they were changed.