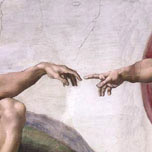 &nbsp
Parenting

Related Blog Posts
So Where's The Next John The Baptist?
At key times in the history of the Church, men and women have been raised up to fan into flame the the embers of Christian believers, and often with seismic results. God is watching carefully, and preparing. Keep your eyes open, and keep praying.
Dad's, Your Kids Are Watching!
"Do as I say, not as I do" doesn't cut it with family. When faith is mainly theory and belief, and not lived out, it leads to disaster. Consider the opposite - a godly father, and the memory his oldest boy holds dear.