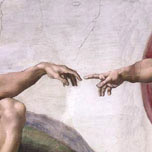 &nbsp
Death

Just Wait And See

| Walt Harrah
Everything we see around us will disappear, transforming into a recreation that far outshines the first. It will be glorious, and last forever.
Related Blog Posts
The Way Of All The Earth
Death comes to us all. Richard John Neuhaus entered into that state this morning, January 8, 2009. Heaven's gain is our loss.
We Shall All Be Changed
We all know the wonder that turns an ugly caterpillar into a lovely, graceful butterfly. The best is yet to come for the children of God.