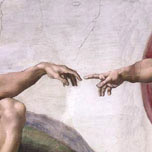 &nbsp
The Tongue

Related Blog Posts
"Ouch!!"
Spiritual pride is hard to detect. Jonathan Edwards gives some tips. The process can be painful, but necessary.
A Way With Words And Then Some
I'm terrible. Ask me to describe my wife of 40 years when she's not present, and I freeze. Uh.... Malcolm Muggeridge could find just the words to put your imagination on spin cycle.
A True Hymn
Our words count for eternity. One of the readers of what we write is the Lord Himself. And we will give an account someday.