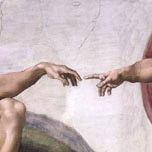 &nbsp
Approachability
Therefore, brothers, since we have confidence to enter the Most Holy Place by the blood of Jesus, by a new and living way opened for us through the curtain, that is, his body, and since we have a great priest over the house of God, let us draw near to God with a sincere heart in full assurance of faith...Hebrews 10:19-21

Related Blog Posts
Oh My God, What Have We Done?
Poets often see things as they are before the "general public" - you and me. Their insight into faith matters needs to be considered, and perhaps on occasion could even serve as a wakeup call.
Deserted, maybe. Forsaken, never!
Our walk with God has its high points, and its low ones. We have times when God seems intensely near, and other times when it seems our cry is ignored, and God is nowhere to be seen. Or so it seems. Bottom line - it is all for our good.
If I Should Die Before I Wake
We all know we should pray. And for most of us, we get around to it eventually, mainly in emergencies. What can we learn from a man of prayer? And how might we end the day before God on our knees? What might that prayer sound like?