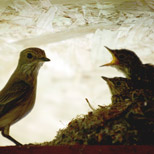 &nbsp
Faithfulness
Therefore I tell you, do not be anxious about your life, what you will eat or what you will drink, nor about your body, what you will put on. Is not life more than food, and the body more than clothing?
Look at the birds of the air: they neither sow nor reap nor gather into barns, and yet your heavenly Father feeds them. Are you not of more value than they? (Matthew 6:25-26)

Now and Forever

| Walt Harrah
God's Care
Have Faith

| Walt Harrah
Persevering and hoping in God when the circumstances by themselves seem bleak and insurmountable.
His Love Endures

| Walt Harrah
God has always been trustworthy, and history is full of His acts of power, and His display of deliverance. And each time He intervenes, praise is the appropriate response.
Convinced Of This

| Walt Harrah
The fact that God gave up His only Son to redeem us shows the lengths He will go to bring us safely home. We are held in His hands, and can rest in that truth.
Prayer For The Future

| Walt Harrah
God's sovereignty. We don't know what the future holds, but we know who holds the future.
God Has Never Failed Us Yet

| Walt Harrah
God is on our side, and watches over us. He never falls asleep, and at just the right time, he rescues and delivers.
Think About His Love

| Walt Harrah
A wise person recalls the goodness of God, and how God intentionally loves on us.
We Trust In The Lord

| Walt Harrah
The world around us tempts us with a myriad of choices to place our trust in. The only sure place for our trust is in the Lord Himself.
I Will Not Fear
Walt Harrah
With God on our side, we have an advantage that the world knows nothing of, and His presence means that we can trust instead of fretting. Fear is a warning light that we are not trusting.
Unchanging God
Isaac Watts
Everything around us may change, but the God we worship is immutable. It is not possible for him to improve, age, or morph. Jesus Christ is the same yesterday, today and forever. God will always be faithful. He cannot be anything else.
Related Blog Posts
So Where's The Next John The Baptist?
At key times in the history of the Church, men and women have been raised up to fan into flame the the embers of Christian believers, and often with seismic results. God is watching carefully, and preparing. Keep your eyes open, and keep praying.
'Jever Have One Of Those Days?
No one in this life is exempt from trials. But when they come in the service of Christ, we suffer in his name, and there is purpose in our discomfort. Nonetheless, trials must be weathered, sometimes literally. Consider John Paton.
Calling All Men Of Issachar
"Hope springs eternal." As humans we just naturally assume that "everything will be ok. It will all work out." Just how do we face the present in light of a God who is holy? And how do optimism and realism correctly co-exist in the heart of a Christian?
Related Worship Scripts
Declare His Greatness
Imagine seeing the seventh game of a world series, and the home team wins with a walk off homerun. Now imagine not talking about it - to anyone. That would be strange. Our God is great, and we must boast about him, to each other and the world.
The God of Hope
Drumming up hope from earthly sources takes up much of our time, but it is, well, hopeless. Only God can provide hope that lasts, hope based on who He is and His intentions for us. It's all good, because God promises, and then delivers on His word.
Change And An Unchanging God
Who likes change? Most of us find it unsettling, and seek to avoid it. But change is unavoidable. God, however, is not only unchanging, but follows us wherever that change may take us, showing his faithfulness day by day.